Parish Cluster Mission
JESUS FOR REAL Parish Cluster Mission
October 3, 4, & 5.
Meal at 5:30, program at 6:45 p.m.
Ends at 8 p.m.
Each evening will start with a simple (free) meal at 5:30 p.m. Praise and worship will follow, along with inspiring presentations by renowned speaker, author, and theologian, Dr. Marcellino D'Ambrosio, known as "Dr. Italy".
Begin, renew, or revive your personal relationship with Jesus as your Lord, savior, and friend.
If you are wanting childcare during the Mission, sign up
here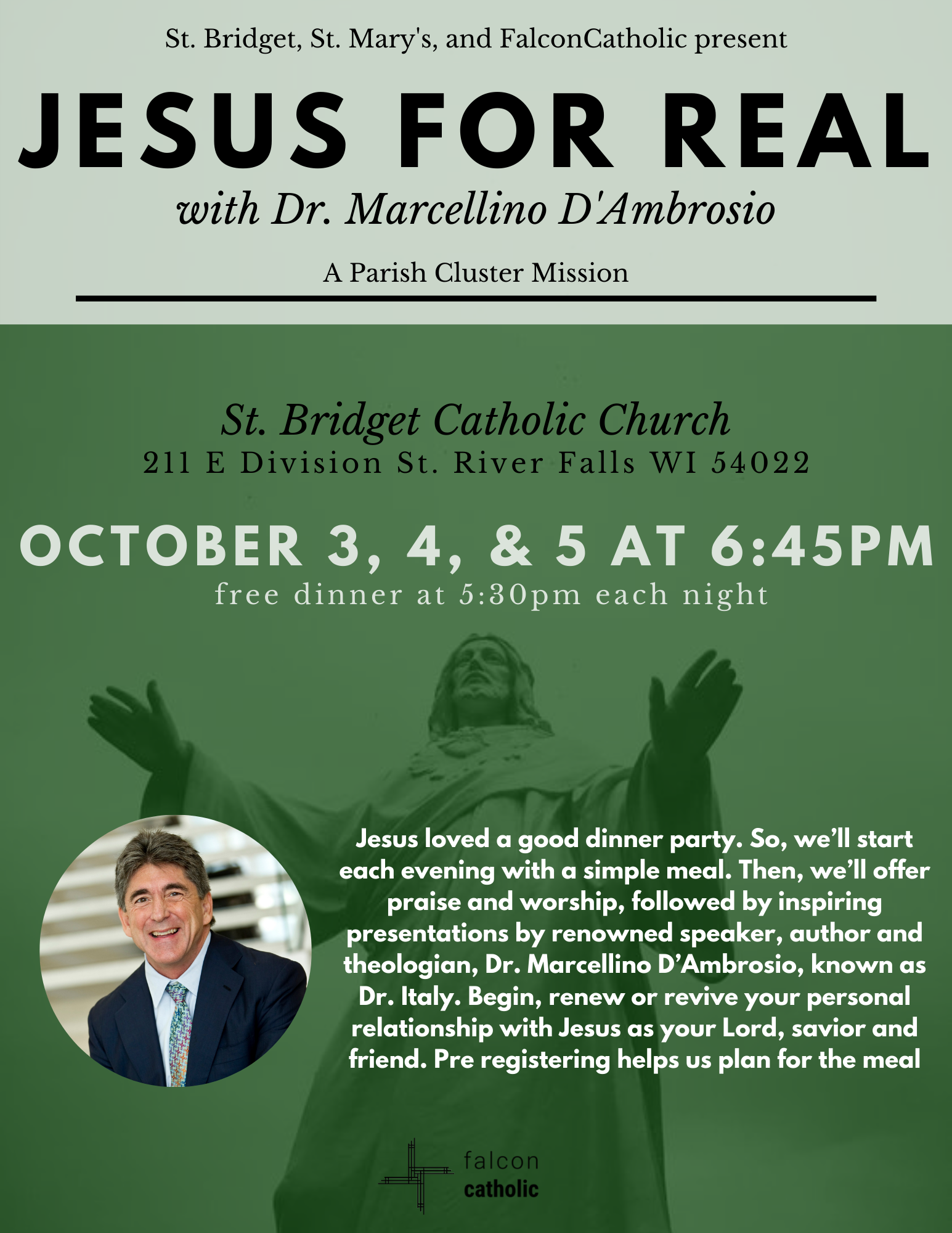 ---
Have coffee with the Parish Administrator!
John Hueg, the St. Bridget Parish Administrator, invites all to join in coffee, community, and conversation!
The third Thursday of each month from 7:30 a.m. - 8:30 a.m.
The Table on Main
166 S Main Street, River Falls WI
The coffee is on us. All are welcome.
---
DIOCESE OF SUPERIOR COLLECTION DATES
2022 – 2023
Catholic Services Appeal Campaign Weekend - Summer Visitor Parishes: August 20, 2023
Catholic Services Appeal Campaign Weekend - General Kickoff: September 17, 2023
World Mission Sunday: October 23, 2022, and October 22, 2023
Catholic Schools Week (during Catholic Schools Week): January 29 – Feb 4, 2023
Operation Rice Bowl (during Lent beginning on Ash Wednesday): February 22, 2023
Black and Indian Missions Special Collection (First Sunday in Lent): February 26, 2023
World Concern (Fourth Sunday of Lent): March 19, 2023
International Priests (in place of World Concern for parishes with an International Priest): March 19, 2023
Holy Land (Good Friday): April 7, 2023
Catholic Home Missions Appeal: April 30, 2023
National Concern: June 18, 2023