Check out what's going on at St. Bridget. Our congregation has a variety of ministry teams and service opportunities. Be sure to check out our calendar for all services and special happenings.
---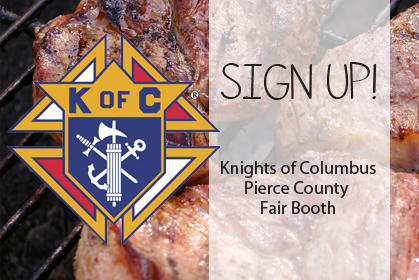 KC Fair Booth Sign Up
Fellow Parishioners - The Pierce County Fair is almost upon us. The dates are August 9th to 12th. Please consider volunteering for a shift or two for at the Knights of Columbus Food Booth. It is a great way to get your whole family involved and its fun too! Plus you get to raise money for your favorite parish group. The groups are: Knights of Columbus (KC), Youth, Council of Catholic Women (CCW), Parish or School.
All food booth volunteers receive a fair entry ticket and a food ticket to use at the end of your shift. Please stop by the food booth when you attend the fair.
(You can also access it from the church website under the Spotlight section.)
---
Come cheer on the St. Bridget Softball Team!
June 4 - 6:30 Hope Lutheran
June 11 - 6:30 Christ Center
June 18 - 6:30 First Covenant
June 25 - 6:30 Servant of the Shepherd
July 2 - 7:45 UCC River Falls
July 9 - 6:30 Hope Lutheran
July 16 - 6:30 First Covenant
July 23 - 6:30 Christ Center
July 30 - 6:30 Servant of the Shepherd
Aug 6 - 7:45 UCC River Falls
Aug 13- Rain makeup date
Aug 20 -Rain makeup date