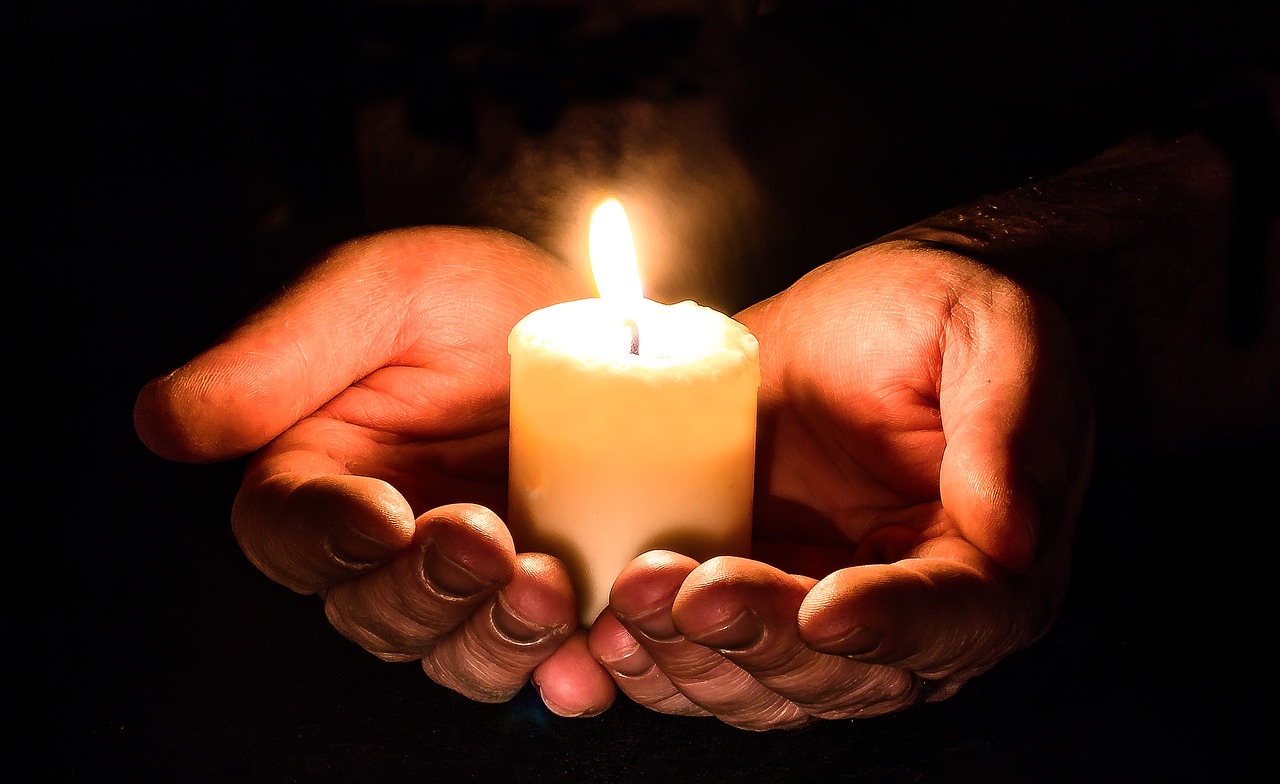 Do you have something, or someone, that you would like
our staff and prayer ministers to intentionally lift up in prayer?
If you prefer that your prayer request not be listed on this web page, just say "no" to the "Post to web" question. Your request will then be seen only by our prayer coordinator and prayer ministers.
Softened heart of forgiveness

submitted by DJ on 11/29/2021 at 08:52 PM CST

Praying for God to move in a mighty way upon Dearin's heart and soul to be softened with forgiveness, compassion and love. Praying for restoration and reconciliation of our family unit to be made whole.

Divorce Reconciliation

submitted by Sharron Swendson on 11/17/2021 at 08:55 AM CST

Please pray that God opens my husband's heart to my love for him, forgiveness, and marriage reconciliation.

Prayer for healing

submitted by Gillian Molitor-Schuh on 11/16/2021 at 09:44 PM CST

My fiancé, Nic, is currently battling COVID… while it's not the worst case ever, I am hoping to ask for prayers so that it stays that way and he recovers quickly… thank you!

for Laura

submitted by KATHLEEN BOWMAN on 10/31/2021 at 10:18 AM CST

Prayers for strength to keep going in the face of stage 4 rectal cancer diagnois 4 years ago. For the family

Healing

submitted by Barbara on 10/30/2021 at 06:26 PM CST

Please pray in agreement with me for the healing of a relationship

Healing prayers

submitted by Nicole on 10/19/2021 at 12:56 PM CST

Please pray for me. Pray that I may receive a definitive diagnosis, that I may be healed and that I may live a full life with my husband. I'm only 33, I'm In so much pain.

Cheryl S

submitted by Georgia Schellhaass on 10/18/2021 at 05:48 PM CST

Hi Please pray for Cheryl S. She has been diagnosed with Stage IV pancreatic cancer. She just retired in January. She also has diabetes & heart issues. Please pray they can treat it.

For healing

submitted by Barb Liddell on 10/12/2021 at 04:22 PM CST

Please pray for healing for Hope, a young woman struggling with mental illness. Father God, please embrace Hope and her family and let them feel your loving presence and your healing powers. Amen.

For Meg B.

submitted by Jodie on 10/12/2021 at 02:03 PM CST

Father God, please surround Meg with healing and comfort as she recovers from a fall.

Answers and healing

submitted by Alisa Raehsler on 10/12/2021 at 07:44 AM CST

Please pray for a clear diagnosis for Joe as we continue our visits to Mayo and for treatment to help his nerves talk to his muscles.

pets

submitted by a. on 10/12/2021 at 05:00 AM CST

Please pray for these pets to get home, otherwise they will be killed in the shelter. Cat and 3 kittens, 2 old dogs, 1 young dog. Thank you

Relationship

submitted by Sun on 10/8/2021 at 01:33 AM CST

Please pray for my relationship with my friend Eric and that we reconcile and heal the relationship. Pray we communicate well when we connect on 10/11. Thank you.

For a woman who is fighting Covid

submitted by Jodie on 10/6/2021 at 02:45 PM CST

We ask for healing of a woman and all other who are fighting Covid right now. Father God, please send healing and peace. Amen

God Bless You All.

submitted by David P Carroll on 10/3/2021 at 07:07 AM CST

I light a candle for the Sick and suffering Tonight and I'll pray All Through the night That our savior Lord Jesus Christ heals Them tonight Amen Peace and love to you all.

pray for a young mother

submitted by Marcella RODEWALD on 9/30/2021 at 01:52 PM CST

Please pray for a young mother struggling to stay clean and sober as she tries to successfully handle the intentional overdose death of her close friend.

Prayers for family

submitted by Dawn on 9/27/2021 at 05:21 PM CST

Brad, Lee, Shawn and Tom recently lost their mother to cancer. They need prayer for their broken hearts and strength to get through each day. Bring them to You, Father, heal their emptiness.

4 execution style murders in WI

submitted by Paula on 9/21/2021 at 07:53 PM CST

Pray for the families of the victims in these murders. God, be with the children who have lost parents, uncles, aunts etc. Stand by the side of the family members taking care of these children.❤️

Prayers for Chris Roosen

submitted by Michelle and Gary Standaert on 9/19/2021 at 09:18 PM CST

Our dear friend Chris was in a serious motorcycle accident. Prayers for healing and guidance for him and his family during this difficult time.

For healing

submitted by Bethany on 9/13/2021 at 04:14 PM CST

For my sister-in-law's friend who is battling covid right now in a medically induced coma. Prayers for healing and strength. Prayers for the family as well, she recently gave birth and has 2 other young children at home.

Please pray for our DivorceCare families and all families affected by divorce

submitted by Barb Liddell on 9/12/2021 at 08:08 PM CST

Dear Heavenly Father, my heart is broken over marriages that are facing or have experienced divorce. May You comfort families affected by divorce, letting Your peace fall over them like a warm blanket. Holy Spirit, please rescue them and fill them with hope. If it is in Your will, God, for these couples to reconcile, I pray that You intervene divinely and restore their hearts. For those that have endured divorce, yet battle with lingering effects, please equip them to overcome and find forgiveness. May You fill each one of their hearts with hope for better days. Renew them, O Lord; have mercy on them and bless them. I pray for healing in Jesus' name. AMEN!

Stacy Hernandez, our daughter

submitted by Lois Helmueller on 9/7/2021 at 10:53 AM CST

Recovering from major surgery

Charlie B.

submitted by Jeanne Poole on 9/7/2021 at 08:54 AM CST

My six year old grandson is suffering from intense anxiety attacks that can last for hours. He is a very sensitive child which makes them worse. Thank you.

Val Green

submitted by Jeanne Poole on 9/7/2021 at 08:52 AM CST

Val has recently been diagnosed with colon cancer that has moved into her liver. She and her husband have three children, the oldest is 21, the others in grade and high school. She is 49. Please pray for her.

Cousins with COVID

submitted by Paula Simpson on 9/6/2021 at 09:04 PM CST

I have 3 cousins (2 in the hospital) with Covid/pneumonia/blood clots. Please pray for healing and God to be with them and watch over them.

For the people in New Orleans and in the path of the Hurricane

submitted by Jodie Rubenzer on 8/30/2021 at 08:50 AM CST

Lord, help us to remember that you are with us in the midst of storm...we pray Lord Hear our Prayer

For the situation in Afghanistan

submitted by Jodie Rubenzer on 8/30/2021 at 08:48 AM CST

For all those who have lost their lives service men and women and civilians...we pray Lord Hear our Prayer

For clarity, calm and compassion.

submitted by Jodie Rubenzer on 8/19/2021 at 09:32 AM CST

Father God, pour your grace upon us that we might become vessels of your wisdom and unconditional love. Heal our broken world. In Jesus name we pray. Amen

Prayers for Chris

submitted by Mary on 8/17/2021 at 08:57 PM CST

A very special person named Chris from Spooner was hit by a car while walking on Friday and is being treated at Regions. Pray for her brain to heal.

Linda Radtke

submitted by Grace Radtke on 8/14/2021 at 05:55 PM CST

Please pray for Linda Radtke who is a patient at River Falls Hospital.

stop smoking

submitted by brother george on 8/10/2021 at 09:40 AM CST

Jesus get kenny to stop smoking

Gods Will

submitted by TJ on 8/3/2021 at 11:10 PM CST

Father, Your Word is true and I believe it. Therefore, in the Name of Jesus, I believe in my heart and say with my mouth that the Word of God prevails over Leland and Kelsey. Your Word says that You will pour out Your Spirit upon my offspring and Your blessing upon my descendants. I believe and say that my loved ones are wise and that they take heed to and are the fruit of godly instruction and correction. So, I commit them into Your keeping, in Jesus' Name."

For a parishioner having a health procedure

submitted by Jodie Rubenzer on 8/2/2021 at 10:21 AM CST

Please pray for a parishioner having a heart procedure this week. Circle him in your care and guide his healthcare team.

Update on Baby Mia

submitted by Theresa Fusilier on 7/29/2021 at 08:56 AM CST

Thanks for all the prayers for our daughter Lizzie and granddaughter Mia. Your prayers resulted in a normal delivery and Mia's only kidney is functioning adequately at this time. She will have extensive nuclear testing on 8/24 to determine if surgery is needed (only one kidney developed and the other appears to have a partial blockage). Thanks for your continued prayers!

Lord Jesus Christ

submitted by David P Carroll on 7/25/2021 at 02:49 AM CST

Dear Lord Jesus Christ I feel you touching my heart And I feel your everlasting love every day And you're in my heart to stay And I'm praying I'm smiling away and I feel Your peace and love that comes My way from your heart every day And I pray for the sick And suffer every night And I'll light a candle tonight And Lord Jesus Christ Here my prayer tonight Amen.

prayers for Mary, Kris, Grace and Kate

submitted by Karen Rickard on 7/22/2021 at 10:33 AM CST

For VBS days at our Parish

submitted by Jodie Rubenzer on 7/9/2021 at 09:31 AM CST

We ask the Holy Spirit to go before and guide the staff and planning for Vacation Bible School Days and to prepare the hearts of those young people who will participate.

Sue OConnell, Barbara Campbell

submitted by Brian P OConnell on 6/29/2021 at 11:47 AM CST

Sister facing major surgery for tumor removal, sister in law facing stage 4 metastatic cancer of most major organs,

For the Extreme Faith Camp Campers and leaders

submitted by Jodie Rubenzer on 6/22/2021 at 03:59 PM CST

Pray for safety and that hearts are moved to recognize, hold and be present to the presence of God.

Safe travels

submitted by Jessica on 6/16/2021 at 05:35 AM CST

Please ask our Lord to watch over my son & husband as they road trip to Duluth this weekend (6/17-6/20)…and to keep my ever present irrational anxiety in check so that I am able to enjoy this time with my daughters. Thank you.

Healing for Linda Jourdeans

submitted by Carolyn A Johnson on 6/14/2021 at 07:46 AM CST

Linda has an aggressive Leukemia. Chemo as been started. Prayers for comfort and strength for Linda to be able to endure the treatments and healing from this disease.

For Jail Ministry!

submitted by The StB's Jail Ministry Team on 6/7/2021 at 06:24 PM CST

That obstacles to Jail Ministry be overcome so that we can share the Good News with inmates! The past several months "issues" have arisen to prevent even virtual sessions. Please pray that we are allowed to resume in-person ministry soon! (Or at least that the jail's "technical issues" can be resolved.)

Our daughter Lizzie & granddaughter Mia

submitted by Theresa Fusilier on 6/6/2021 at 10:23 AM CST

Mia was diagnosed with renal failure at 5 months gestation. Her due date is 6/17. Please pray for peace and strength for our daughter as well as healing for our unborn granddaughter, Mia.

Our Baby Girl

submitted by Lisa on 6/5/2021 at 11:16 PM CST

For our baby girls CT scan to show no areas of concern.

Sister-in-law...

submitted by Jeanne Poole on 6/3/2021 at 09:28 PM CST

Recently had a brain bleed. She is recovering slowly but it will be a long journey.

For end of life

submitted by Dawn on 5/23/2021 at 07:41 PM CST

For Tricia. She is dying from metastatic cancer. She is very sad to leave her family. Please pray for peace of heart. And an easy passing.

For graduating seniors

submitted by A Nervous Mom on 5/20/2021 at 02:44 PM CST