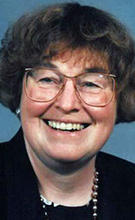 Please Join Us for the Seventh Annual
Doris H. Murphy Memorial Lecture
Tuesday, February 4, 2020 from 6:30 p.m. - 8:00 p.m.
No Contribution Is Too Small
Presenter: Christine Newkirk
Chris will help participants explore how to call forth the best from people by facilitating the discovery of their giftedness and empowering them to use those gifts for the common good. Practical examples and stories will be shared from her time as a student under Doris Murphy's instruction and mentoring. This lecture will be useful information for teachers, catechists, parents, leaders, and for all of us who live or work or volunteer with others.
Mrs. Christine Newkirk currently serves the Diocese of Superior as the Director of Ecclesial Ministries & Diocesan Consultation and has worked for the Diocese for 20 years. She holds a Bachelors of Integrated Studies in Philosophy and Religion, as well as a
Masters in Servant Leadership, both from Viterbo University in La Crosse, WI.
This lecture series is established in memory of Doris H. Murphy, a former Faith Formation Director at St. Bridget Church and a teacher, writer, lecturer, and mentor who had a passion for catechesis, social justice, scripture study, liturgy, the Eucharist, Vatican II, and care for the environment. In her own words, most of her work "has been trying to put together theology and the people of God." Our presenter this year is proud to share that Doris Murphy was one of her professors and a friend.
For more information, call 715-425-1870