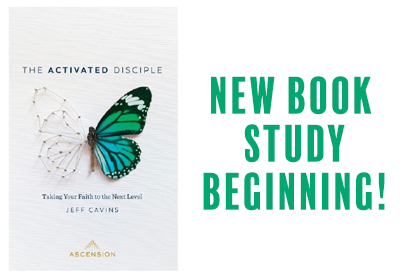 Praying for 12 or more people to continue on the road to active discipleship.
Begins Friday, March 13 at 9 AM
in Garden View room at the Church
Cost: $10.00 – Book and Journal provided!
Sign up at the Information Desk or by emailing Jodie.
Centering Prayer Group
Wednesdays, 8:00 a.m. Garden View Room
What is Centering Prayer?
Centering Prayer is a method of quieting our inner faculties so as to enter easily into contemplative prayer.

Centering prayer as a discipline is designed to withdraw our attention from the ordinary flow of our thoughts .

Just as we need exercise, food, rest, and sleep, so also we need moments of interior silence because it brings the deepest kind of refreshment.

Faith is opening and surrendering to God; the spiritual journey does not require going anywhere because God is already with us and in us.
For more information, please contact Jodie Rubenzer at 715.425.1879 ext 110 or jrubenzer@stbparish.com